WELCOME TO CROATIA-The new European Big Game Fishing destination !
BIG GAME SPECIES IN THE ADRIATIC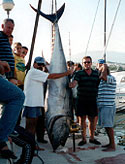 In the last few years Europe has got a new destination for big game anglers in the Adriatic sea. It's eastern part, Croatian coast has been known for centuries as a habitat of one of most desired big game fish - bluefin tuna.

Adriatic sea has a unique characteristic which puts it in front of other fishing destinations. Namely, the bluefin tuna, otherwise a highly migratory species has chosen Adriatic sea for it's home and this is the only known place on earth, where bluefin can be caught any time of the year.